Create 1D/3D LUTS
LUTs are created in raw viewer V2.1 using the clip "Input Settings". Only the input settings do anything. Once you have the look you want you use the "save as" button next to "parameter control" to save the LUT as a camera LUT. Then place this on an SD card. Put the SD card in the camera and go to the "File" menu to import the LUT to the cameras user LUT memories.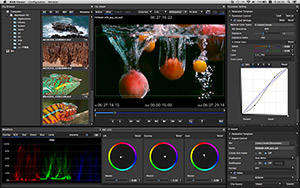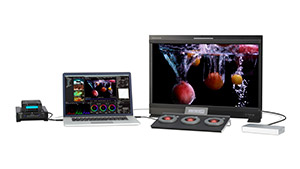 RAW Viewer WINMAC
RAW Viewer is a viewer application that can handle SONY RAW File recorded by F65/F55/F5/NEX-FS700 with SR-R4/AXS-R5. Users can check and playback the files, control images and generate several video formats.
Applicable Products
CineAlta Camera Series
F65
PMW-F55/F5
SR-R4
AXS-R5
NXCAM Series
NEX-FS700
NEX-FS700R
HXR-IFR5
Features
Viewing Clips
Display and playback clips
View and edit a metadata
Flip images
De-Anamorphic (1.3x, 2.0x) images shot by Anamorphic lenses
Setting selectable resolution, 8K*, 6K*, 4K(Quality), 4K(Speed), 2K(Qality), 2K(Speed), 1K, and 0.5K. *only F65RAW-SQ and F65RAW-Lite
Zooming and pixel by pixel displaying.
Waveform and Histogram function
effective marker setting
Navigator display
Display Timecode and Duration
input In and Out points
Poster Frame setting
Selectable GPU/CPU setting and supporting Multi GPU decoding
Generate Video and Audio formats
Generate several video and Audio formats (DPX, Open EXR, SStP, ProRes* and BWF (Audio)) *Mac only
Trim original RAW files
Save and Load parameter template
selectable creating sub folder
email notification about the status of tasks
Selectable processing algorithm, Quality priority or Speed priority
scaling for generated files (Letter Box, Center Crop, De-ana 2.0x and De-ana 1.3x)
selectable bit depth (DPX:10 or 16bit, Open EXR: 16 or 32 bit, SStP: 10 or 12 bit, ProRes: 10 or 12 bit)
Flip images vertically or horizontally
selecting audio channel
importing EDL and processing
Look control
Setting workspace
Save and Load parameter template
Export 3DLUT, ASC-CDL for other tools and Camera LUT for F65
Control Exposure
Control Linear Gain (Printer light control)
Control color temperature (2000-15000)
Control color barance (Tint) (-1.00-+1.00)
Selecable color space, REC709, S-Gaamut, ACES, Look Profile and User 3D LUT
SelectableTone curve* *only REC709 and S-Gamut color space
Control Tone curve
support and control ASC-CDL by color circles and parameters
Selectable Monitor LUT
Preset ACES ODT
Import User 3DLUT and 1DULT
Control HDLink series from Black Magic Design
SDI output by UltraStudio series
RAW Viewer V2.0 supports Monitor Out Device "UltraStudio" series which are released from Black Magic Design. This function allow you to output HD and QFHD* signals to monitors and control each materials correctively. * UltraStudio 4K only
Look control by Tracker balls panel
Connected element-Tk tacker balls panel which is released from Tangent wave to computer via USB allow you to control color sircles and other parameters intuitively on RAW Viewer 2.0.
Other functions
Task queue
The Task Queue displays a list of tasks registered. In addition, users can control tasks such as PAUSE, ABORT and REARRANGING the order of tasks.
Salvage function
RAW Viewer V2.0 has salvage function for RAW files which are shot by AXS-R5* and ASX Memory cards. * Version 2.0 and later
Check MD5 an SRSum
RAW Viewer V2.0 has Generating MD5 and checking MD5 functions. And it can check SRSum which has generated by SR-PC4 and SRPC-5 for SRMemoris.